How Justin Woll Can Near Guarantee Your eCommerce Success in 2021
If you're looking for an eCommerce mentor, you already know it can be as hard as driving a car blindfolded.
There are hundreds of potential mentors you can choose from, and you want to be sure the mentor you choose is putting you on the road to success.
Over the past 5 years, we've come across hundreds of eCommerce mentors. Some came on the scene, only to disappear a year or two later, but there are very few eCommerce mentors out there who've been around for a decade.
Enter Justin Woll:
Justin Woll is known as the most consistent eCommerce mentor in the entire industry. 
What does that mean?
He's the eCommerce mentor with the most consistent student results in the entire industry. Take a look at his Beyond Six Figures Facebook Group and you can see visual proof of this. It's not rare to see Justin's students posting results of making $500 per day, $1,000 per day, and even $10,000 per day.
And while yes, this Facebook Group does provide endless amounts of free resources for eCommerce business owners on a strict budget, it also serves as a "Wall Of Fame" for Justin's student results.
But should you trust Justin?
And the even bigger question, can Justin actually guarantee your success?
Let's find out:
Justin Woll Has Been Involved With eCommerce For Nearly A Decade
If there's one thing that separates Justin from every single eCommerce mentor out there, it's experience.
He may be young (he's only 25 years old), but he has eCommerce experience like no other mentor in the entire industry.
Justin Woll had been involved with eCommerce since an extremely young age, and he first hit massive success while attending Rutgers University. While studying there, he found early success with eCommerce by starting an apparel eCommerce store that hit $100k / month within a few short months. In the years following, he kept consistently growing successful eCommerce stores until he finally had enough.
Justin knew he was onto something and he couldn't just keep making himself money.
He didn't just want to change his own life with eCommerce.
He wanted to change the lives of others.
So that's exactly what he started doing.
After growing multiple of his own successful eCommerce businesses, he took a few select students under his wing and mentored them using the exact same systems he used to scale his businesses from $0 to $100,000.
What happened?
His first few students made enough money to live a life of complete freedom on their own terms.
In fact, after implementing Justin's proven systems…
Justin Woll's Second Student Hit $10k / Day
This is an unimaginable amount of money to most.
But for Justin and his students, this is just another day in the office (or the beach…many of his students travel the world while running successful eCommerce businesses).
Now, maybe you don't need to hit $10k / day.
Maybe you just need to make an extra $200 or $300 per day so you have the freedom to call the shots and work anywhere.
Well, many of Justin's students felt the exact same way.
They didn't want the stress of running a 7-figure business from their laptop. They simply wanted to make $200-$300 per day so they could replace their current income and not have to constantly stress about money.
And guess what?
Hundreds of students have accomplished this with relative ease.
What you see below is just a handful of students who've made enough to replace their current income.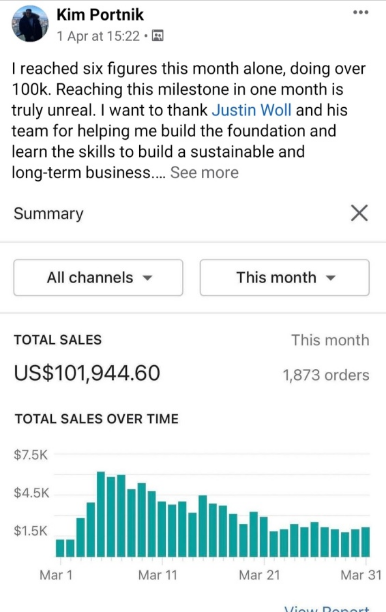 Okay, but seriously…how is this possible?
It's possible because…
Justin Woll Only Teaches His Students Timeless And Proven Systems
Like we mentioned above, Justin has been equipping his students with the knowledge to be ultra-successful eCommerce business owners for nearly a decade.
Not only that, but many of his systems are timeless (that's why much of what he taught 5-6 years ago still works to this day)
How so?
Simply put, Justin's eCommerce systems are built on the foundation of human nature.
In the words of Justin Woll himself:
"Some things never change. Human nature is one of them"
What does this mean for you?
If you choose Justin as your eCommerce mentor (we'll tell you how to get personalized mentorship directly from Justin here in just a second), his systems will work no matter if it's 2021, 2025, or 2100.
Take for example Justin's Proprietary Product Research System:
Justin has been teaching his students for years how to successfully find profitable products by simply scrolling around the internet. He finds that there are 9 different criteria for a winning product, and if his students find a product that fits 3 out of the 9 criteria, they test the product.
His unique product research system is shockingly simple on paper, but it's just one of the reasons Justin's students are able to become successful eCommerce business owners within just a few shorts months.
Along with his Proprietary Product Research System, Justin also teaches his students countless other systems, including:
*Lightning Speed Store Creation – Justin and his team teach you exactly how to get your eCommerce store created in just a couple of hours
*Easy Video Ad Creation – Making video ads for your products can be tough. Justin makes it effortless. He'll walk you through exactly how to create your own winning video ads (he also teaches you how to outsource them to professionals if you want to save even more time)
*Facebook Ads With A Proven Blueprint – Learning Facebook ads can seem like an impossible task. Justin and his team show you the exact buttons to press in order to do Facebook ads the right way.
*Scaling To 7-Figures – No matter how massive you want your eCommerce business to become, Justin shows you exactly how with the same scaling systems proven to work on his own businesses. 
And this only scratches the surface of what Justin teaches you inside his programs.
So now the only question is…
How can you get mentored by Justin Woll himself?
The simplest way is by applying for the…
BSF 6-Month Personal Mastermind Experience
If you've never heard of the BSF 6-Month Personal Mastermind Experience, here's a quick rundown:
This is Justin's way of giving you a world-class eCommerce education within just six short months. Inside the Mastermind, Justin reveals the step-by-step systems and processes it takes to grow your eCommerce store from $0 to 6-figures (and beyond). 
As Justin says:
"This is my premiere eCommerce mentorship program where you're not only being directly coached by myself to reach the next level of eCommerce success (whether that be getting your first sale or getting your 10,000th sale), but you'll also get to work alongside other 5, 6, and 7-figure eCommerce business owners to see what's working and what's not."
If there's one eCommerce mentorship program that can near-guarantee your success, it's most likely this.
And if you'd like to apply and see if this mentorship program is right for you, go here: