Westgate Branson Woods: The Heart of the Ozarks
If you are in need of a break, or you are in need of a fresh start, then getting away from it all and recharging your batteries may be necessary. Getting away from it all will allow you to reconnect with yourself and your loved ones, and it will let you to see things from a new perspective. To gain this clarity, you need to choose the right destination. So, where should you go, and what do you need to take into consideration? The destination is just as important as the type of break, so think about where you want to go and what you want to get from your break. Here is a list of resorts where you can get away from everything for a while and just recharge for as long as your vacation allows.
Westgate Branson Woods Resort, Missouri "
Comfort guaranteed in the warm and welcoming cabins and rooms. Relax and unwind from the start of your vacation".
In Missouri, there is a special place you can visit. This place gives you the opportunity to reconnect with yourself and with your loved ones too. Set in natural and breathtaking surroundings, the Westgate Branson Missouri resorts has something to suit those who are looking to have a break and truly away from it all. Whether this is by reconnecting with lovers ones, or reconnecting with nature, at this resort, it is possible. If you are looking at guest rooms for two, or you are looking at secluded two-bedroom cabins, you can find them at Branson Woods. If you want to do more and fit more into your break, then you have the opportunity to participate in all-year-round activities, such as hiking and trail walks, which will give you a chance to reconnect with nature, and truly embrace the beautiful surroundings of Bronson.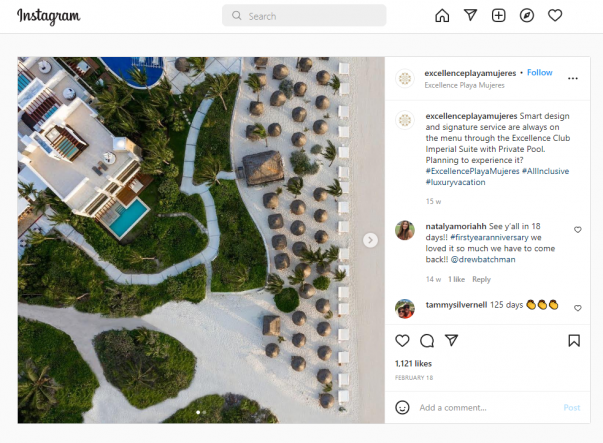 Excellence Playa Mujeres, Cancun
"Access to beautiful private pools and private beach areas"
If you are looking at heading away from the States, then why not take a short journey over to Cancun, Mexico. Here you will find the Excellence on the Playa Mujeres. At the Excellence in Cancun, you get access to exclusive pools, spas, beach areas, and dining areas too. Being able to relax on the beach in luxury will give you an opportunity to unwind and recharge. If you are looking to do more on your vacation (other than swim in the pool and sit on the beach), then you are in the right place. At this resort, you can do as little or as much as you want each day. The adults-only resort gives you access to 12 restaurants and also access to Spa treatments, such as Aqua hydrotherapy. Being able to rejuvenate all areas of your body and reawaken your senses will be beneficial.
Gem Island Resort & Spa, Malaysia
"A small and secluded resort for eco-conscious travelers"
Sat on 8.5 acres, on its own private island, Gem Island resort and spa is the perfect getaway from it all – especially as it is on the other side of the world! Secluded and private, this resort and spa give guests the opportunity to relax and watch the world go by, head out for a snorkel in the crystal clear waters, go paddle boarding around the island, or even go diving and exploring the local marine life.  There are lots of things you can do during your stay, and lots you don't have to. Watching the beautiful sunrise and sunset every day will be enough to reawaken your senses and help you find a new sense of calm and balance.
The Brando, Tetiaroa, French Polynesia
"Exclusive, private, and secluded residences await you."
If you are looking to get away from it all, and money is no option, then head to the Brando in French Polynesia. Created and built around sustainability, this island retreat gives you the perfect opportunity to reconnect with the ocean and with nature. Once you have reconnected, you can then focus on yourself. Spend some time getting pampered or indulged in one of the resort's spas, or spend time fine dining (inside or outside). Private one-bedroom villas and even larger private residences are available on the island. The resort is only accessible by private plane transfer, so you can be sure that you are as far removed from the hustle and bustle of everyday life as possible. Spend your free time swimming, exploring the ocean, or just soaking up the beautiful weather and surroundings.



Andilana Beach Resort, Madagascar
"Where the sea, beaches, and nature all meet."
Madagascar is a place where you can explore true biodiversity – any way you turn, whether on sea or on land. Exploring nature and the ocean is possible at this resort, and it is something that is actively encouraged through organized dives and educational trips. The Andilana Beach Resort is a luxury resort. However, it is ideal for those looking to travel and get away from it all (with a family in tow). Suites and rooms have recently been remodeled, and they now feature soothing and calming color schemes. Letting go of stress while having a massage in the beautiful scenery is more than possible. 
Read Also: The Future of Bitcoin Mining in 2022
Royal Malewane, South Africa
"Luxury in the South African Wilderness"
Getting away from it all does not mean that you have to say goodbye to everything and everyone. In fact, staying close to nature can help you reconnect with yourself and deepen bonds and relationships with those that you care about. There is a lot to see in South Africa, and one of the most famous things is the Kruger National Park. Being able to see wildlife and nature up close and personal is a unique experience and one that can be done in luxury at the Royal Malewane. With three types of accommodation on offer (the Lodge, the farmstead, and the waterside, there is bound to be an accommodation type to suit your needs and requirements. Luxury suites and Modern private villas allow you to connect with nature and wild animals in a comfortable and safe way.
Lily Beach Resort and Spa, Maldives
"A paradise for those wanting to disconnect"
The saying no shoes, no news is true at the Lily Beach Resort and Spa, which is located in the Maldives. Known for its luxurious and high-quality service, Lily Beach Resort and Spa is where you go when you want some inner peace and some all-important me-time. Time to reconnect is important, and you will certainly get this at Lily Beach. The Maldives is a place where you can explore at your own pace, and this may mean snorkeling and trying to spot turtles or reef sharks. Or it may mean sunbathing on sandy white beaches. Beautiful overwater villas mean that you can explore the ocean and see what is on offer without even leaving your room.
Pacuare Lodge, Costa Rica
"Private and secluded villas and lodges that allow you to connect with nature".
With beautiful oceans, beaches, and mountains on offer, Costa Rica is a natural and lush environment that appeals to many. Whether you want to spend your time surfing in the ocean or you want to sit and wait for a sloth to appear, you can make it happen in Costa Rica. The Lodge is well located in the rainforest, and it allows you to explore what the rainforest has to offer you as a traveler. Being able to immerse yourself in Costa Rica is essential, and this is something that you can do when you stay in one of the lodges' suites or villas. When you have your base at the Pacuare Lodge, you can then move on to activities such as zip line tours and waterfall hikes – all in a sustainable manner.
Board and Basis
To make sure that you choose the right resort, you need to think about the board and basis. You want to get the most out of your trip and vacation, and even the small details can make the biggest difference. The board you choose will affect your spending, and it will affect your budget. Think about how important food and drink are to you during a vacation. For example, does it make or break a vacation for you? Do you want to focus on half board only, or do you need to look at a full package- simply because there will not be many other providers around where you are staying?