On-Demand Food Delivery App ….the changing landscape of online food delivery industry.
On-demand food ordering delivery app? What? Why do I need it? Because it is a need of every restaurant owner/food delivery service provider. What will you do if your customer is asking for food at odd hours? What will do if your customer doesn't have cash and wish to pay online? What will you if your customer is not willing for the dine-in options and wish to eat at home? With the pandemic, the rules of dine-in, paying and other such have changed. And with that, you too need to change your restaurant business operations. Thus, building DoorDash Clone App for your online food delivery business is the best solution.
Today, more and more restaurants are partnering with third-party aggregator apps to offer their services to customers. This way they do not have to invest in developing the food delivery app. If you are a restaurant owner and looking to scale up your business during this pandemic, why not you make a "DoorDash Clone Marketplace App"? It is cost-effective, trending and most importantly it gives you a stable cash inflow.
Still not convinced? We have significant pointers here:
Customers are likely to choose marketplace/aggregator app as they have a wide range of options to choose from
The promo deals and discounts by the variety of the food delivery service provider can be found in numbers
They have a dedicated delivery fleet thus known for offering food delivery right on time
The real-time tracking feature allows them the track their food order status and knows the estimated time
The app comes featuring new features as well as COVID19 safety features that ensure that deliveries are safely made.
Almost every customer today in any corner of the world is using an online food delivery aggregator app. However, new online food ordering app solutions are introduced now and then, to make sure that your DoorDash Clone App brand loyalty remains unaffected integrate it with unique user-centric features.
Why Choose DoorDash Clone App For Online Food Delivery Business
Earn heavy commission
DoorDash Clone App allows you to earn a steady income through multiple avenues. Charging commission from the food delivery service providers, to delivery charges, canceled orders, 3rd party ad banners, and so on the app generate you a hefty commission. To survive in this cut-throat competition, having your food delivery app like DoorDash allows you to be in complete control of your business operations.
Automate food delivery operations
Since the app comes integrated with scalable technology and great features to provide you with a seamless delivery operation. From order management to inventories to carry out deliveries the entire process is automated. It not only reduces the stress of delivering the food packages on time but it eliminates the expenditure of the resources. It minimizes the need of hiring operational and administrative staff.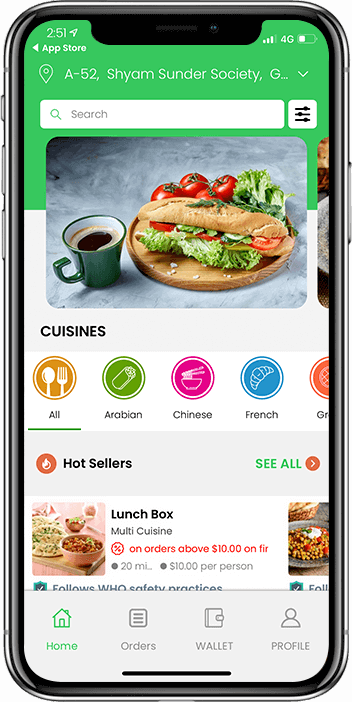 Food delivery efficiency
Most of the time we have experienced that either the food is not arriving on time or the package is missing, the order has goofed up or the delivery driver is rude. DoorDash Clone App reduces all these and many such errors, increasing the productivity and efficiency of your food delivery business. Since everything is automated, it stands zero chances of these kinds of mistakes happening.
Provides seamless communication
Food delivery needs accuracy to operate. Customers expect their food to be delivered right on time. At times, the delivery drivers are unable to reach in time. Thus in such circumstances, the "Order Cancelation option for Delivery Drivers" as well as "In-app Chat/Call support" provides spot-on communication. This helps customers to know about the situation in case if the order has been canceled or delayed.
DoorDash Clone App provides restaurant owners great opportunities of generating revenue without much investment. The on-demand food delivery app would allow you to:
Import menus directly from CSV
Provide contactless deliveries/take away options
Upload kitchen pictures for the customers to know their safety protocols
Safety badge
Item name searching
Daywise separate time slots
Restaurant wise set commission
In Conclusions
If you are googling on finding the Benefits of Building Food Delivery App or New Version Features to integrate into DoorDash Clone App then you will be more confused. There is no one-size-fits rule here in getting your on-demand food delivery app right. Instead, approach an app development company to guide you with the right concept and features to go with. In today's date, the restaurant needs to have an online food ordering and delivery solution. The app offers you to put better control by connecting the users and the service providers, offering a wide range of cuisines, overall enhancing the food ordering and delivery experience.